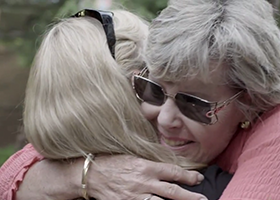 76-year-old woman finds her birth family after a 40-year search
When Winnie was born, she was given up for adoption by her 17 year old birth mother and adopted by loving and nurturing parents. Her large adoptive family provided her with a wonderful life and many opportunities for which she has always been most grateful. But Winnie felt that a piece of her life puzzle was missing, that of her genetic roots. Her birth mother went on to marry and raise a son and three daughters, but took the secret of her first born daughter, Winnie, to her grave.
After a geneticist/genealogist recommended that Winnie test with 23andMe, she was matched immediately with a genetic relative who turned out to be her half nephew. Additional testing by 23andMe confirmed that his mother was Winnie's half sister. Winnie had found her birth family at last.
Winnie's biological family never knew about her, but following a tearful meeting, have welcomed her into their family with total love and acceptance. Her newly found family has provided her with answers about her birth mother's life and her genetic family history.